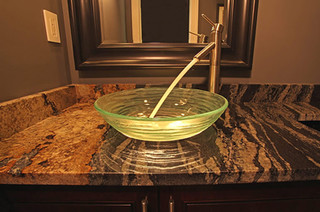 If you are thinking about remodeling a bathroom, from a gut renovation to a cosmetic update, a new countertop can become an eye-catching feature while taking your bathroom from mediocre to wow. From stock to custom, the choices are broad and you're sure to find the look, feel and finish you desire.
The characteristics of the material used are important to consider, however. You will want to evaluate the durability, stain and water resistance, and the maintenance requirements as a starting point, and then you can consider the aesthetic appeal.  The style, color, pattern and edge option, such as bull-nose (rounded), bevel (angled) or ogee (S-shaped) will create the unique, overall look and ambiance you want to achieve.  Your surface choice should also take into account how the bathroom is used — as a master bathroom, guest bathroom, child's bathroom or a powder room. Of course, cost is always a major factor, too. Do your homework and take measurements before you shop so you can get a handle on the installed cost of your preferred options.
Below is a list of several popular choices for consideration:
Granite:  These days, granite is very popular for a number of reasons. It's durable, the easiest to care for of any of the natural stone materials, it's impervious to water and each piece is unique while boasting elegance and high quality. As a stone, granite scratches, has veining so the pattern isn't consistent (adding to its uniqueness), needs to be sealed every six months and is among the higher priced materials. Granite counters are perceived by potential buyers as a mark of a renovated, higher end bathroom.  You can visit stone shops (where you may be able to find a remnant from another home owner's project) or quarries, but you can also find a multitude of granite options at home improvement stores such as Home Depot.
Marble: A traditional choice, marble counters are without peers in terms of luminescence and veining, and will add an elegant finish to most any bathroom. Be wary, though, as marble is very susceptible to stains, even with sealing and may not be ideal for heavy, everyday bathroom use.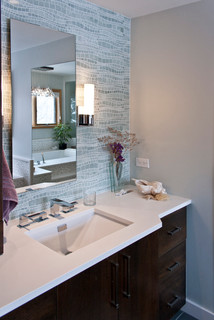 Manufactured quartz:  Manufactured quartz combines natural quartz with resins and color pigments to create a smooth surface that imitates the look of limestone, granite or marble with a more even or consistent pattern.  It's less expensive than natural stone and is more resistant to stains and scratches. It's also very durable, easy to clean with soap and water and has low maintenance overall. This synthetic composite, which you've likely heard referred to as Silestone®, Okite® or CaesarStone®, is available in a wide range of colors and thicknesses. Some products also add an anti-microbial agent, making the surfaces cleaner overall.
Tile: Tile has always been a popular material for bathroom countertops and offers variety as well. A classic look, tiles allow you to create colorful designs. It's durable and stain resistant, too. Some negatives including chipping, breaking, uneven surfaces and obvious grout lines, which require regular maintenance and cleaning.
Solid Surface Materials:  Solid surface countertops, such as Corian®, are made from made acrylic and polyester, but are designed to look like natural stone. They are durable, easy to maintain and can be molded to any design, including sinks, for a seamless look. They are resistant to stains, moisture, sunlight and heat and easily repaired with light buffing. A non-porous material, these counters also repel moisture and inhibit growth of bacteria and mold. Solid surface materials come in a myriad of colors and patterns and are on the pricier side of countertops.
Laminate: One of the most affordable options, plastic laminate countertops consist of a wafer-thin finish adhered to plywood or particleboard substrate. Brands you may be familiar with are Formica® or Wilsonart® for example. Laminate is impervious to water, stain resistant and fairly durable; however, it's easily scratched and can get damaged if water leaks get to the base material. Laminate counters remain popular due to their price points, easy maintenance and range of colors, patterns and finishes, but in Boston condos they are the mark of an older, not recently updated bathroom countertop.
Wood: Wood countertops bring warmth and natural beauty to a bathroom at a comparatively affordable price tag.  There is a wide variety from which to choose — maple, cherry, oak, birch, and teak — in many styles and edges, from traditional to contemporary.  Wood counters are also considered an environmentally sustainable choice because wood is a renewable resource. Yet, there are downsides: wood counters need to be sealed properly since the surface is porous and also require treatment with mineral oil or some other protectant to prevent water damage. Wood also swells and contracts with moisture, is subject to scratches and dents since it's a relative soft material, and may need refinishing (to remove scratches and dents) over time.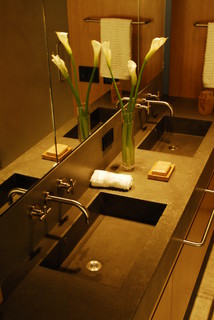 Concrete: For a durable material with a modern, organic look, consider concrete. Concrete countertops are made from a general-purpose mortar mix: one part cement to three parts sand, and they must be sealed to make them non-porous and stain resistant. They offer numerous opportunities for customization in terms of color and texture. You can add re-cycled glass or even stone into the mixture for a more glamorous look, and because the counters are handmade by artisans, they can be created to fit any shape you can easily integrate customized features, such as drain boards. Keep in mind that installation can be tricky due to the heavy material and the dust that comes from grinding, but with minimal maintenance requirements, concrete countertops can be a desirable option at a more desirable price.
If you're renovating your entire bathroom, considering choosing your countertop first. Let it be the inspiration for selecting your back splash and floor tiles as well as cabinetry and for transforming your bathroom from mediocre or outdated to wow.