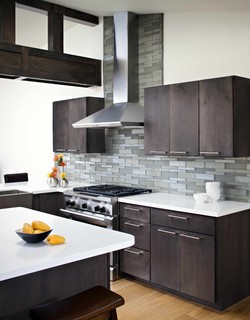 Kitchens are a key selling point to most homes and particularly Boston condos. No matter the style, it's one of the first rooms that my clients look at in assessing the overall look and feel of the condo as well as its condition. The age and condition of the kitchen tends to be an important factor in the decision making process as kitchen remodels can be costly.
I always point out the potential to remodel, if necessary, but also the ability to make smaller, less costly changes that can make a big impact or impression, not only on your kitchen, but on your overall condo, especially if you have an open kitchen/living concept. Changing a kitchen backsplash is a relatively easy way to make a dramatic difference in your kitchen.
Backsplash tiles run the gamut in terms of material, style and price, and there is endless opportunity to create your own unique look. There are many more tile options that can work for a backsplash, too, since the tiles don't get direct foot traffic. They do need to be able to withstand water, cooking splatters and heat, however, so that you can easily maintain the look you desire.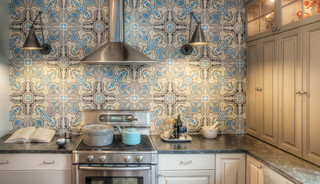 Some of the most common tile backsplash choices in luxury Boston condos include:
Natural Stone – Whether granite, marble or limestone, stone tile is generally more expensive, but offers incredible durability with unlimited choices. All natural stone products are porous and will require treatment and maintenance to resist staining.
Glass – More reasonably priced than stone, glass offers a wide array of tile options as well. Installation can be tricky and it's hard to keep clean, requiring extra effort all around, but the finished look is often worth it
Porcelain – Stain and water resistant, porcelain tile is dense and durable and generally has a matte finish.  Some porcelain tiles closely resemble natural stone in appearance, but for less money.
Ceramic – Great for areas subject to moisture, ceramic tiles come glazed or unglazed. Glazed tiles are easier to clean than unglazed tiles, which should be treated for stain resistance.
In addition to being functional, a tile backsplash can serve as a stunning accessory to your kitchen. You can arrange tile in patterns such as diagonal lines or geometric shapes to create movement and texture. If you like bold design, you can create a mosaic or use patterned tiles to make a statement and create a focal point, such as the backsplash to the stove and vent hood. If the kitchen in your Boston condo opens into your living room, you can use a tile backsplash to either complement your living room décor and create a seamless transition from one space to the other, or to make your kitchen stand out to distinguish the rooms as two separate spaces. Even with the most basic cost-effective tiles, you can create a customized look with decorative accent tiles. An expert tile installer – or one of Boston's tile showrooms – can provide direction on materials and help you make the best choice given your particular space.
With the wide variety of tile materials available, you can create a backsplash that reflects your own style, adds beauty to your kitchen, and takes your kitchen from average to awesome.