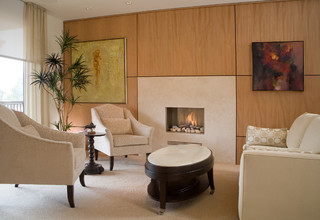 On a wintry day like today, it's great to have a fireplace… for warmth and for ambiance. One very desirable feature on the checklist of "wants" for a Boston condo is a fireplace, but not all condos have one. Sometimes, even if there is the appearance of a fireplace, in a charming brownstone, for example, it may not necessarily be functional. It may just be decorative, at least at the moment. If you're searching for a condo with a fireplace and there is either a non-working fireplace or no fireplace at all, don't despair. Consider and explore a gas fireplace. Gas fireplaces have become increasingly popular, particularly in brownstones that have undergone a gut renovation, and even in some units within new construction luxury buildings, such as Millennium Place and 45 Province, both in the hot Downtown Crossing neighborhood.
You can transform an existing masonry fireplace into an efficient heat source, with the added benefit of ambiance, using a gas fireplace insert, or with new construction, you can just build it in. There are direct vent (through a wall or roof) and ventless options. It's best to get the professional opinion of a contractor to determine which type is most appropriate for your space and will be permitted by the city. You'll also need to explore what is allowable by the condo association, as the installation and operation of a gas fireplace may impact other homeowners in your building.
Gas products have some advantages over wood burning fireplaces. They may offer the look of a wood fireplace, but without the hassle of hauling wood up several flights of stairs or storing it, where every inch of storage space is precious and limited. And gas fireplaces are much cleaner and more convenient… no ashes or wood chips lying around or to discard, and they can operate by the switch of a remote control or wall thermostat. Where natural gas is not available, you can use liquid propane.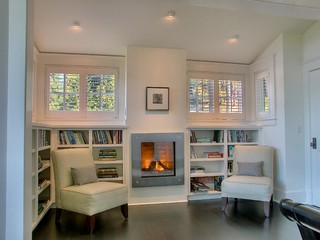 When it comes to style, the choices are endless, too: traditional looking with logs to contemporary with river rocks; flame or no flame; set in a wall or on a hearth; or a brick interior or black, for example. I've seen many different options in Boston condos, uniquely suited to each owner's taste and style.
Here are a couple of websites that allow you to design a fireplace online to create your own custom look: valorfireplaces.com and heatnglo.com, or get some inspiration from houzz.com. In the Boston area, you can visit showrooms and speak with specialists at shops such as Black Magic Chimney & Fireplace in Cambridge or Yankee Fireplace, just north of the city.
Check for future blogs on other fireplace alternatives for your Boston condo.