In Boston condos and city living in general, where space is limited, you need to find creative storage solutions. With the effective and clever use of bookshelves—a must for any home—you can store and organize your belongings in a way that will maximize every space in every room. Though the name implies that they should be used for books, bookshelves are a versatile storage option that can also serve as key architectural, structural, or decorative elements in your home. In addition to housing books, you can use bookshelves to:
Show off your collections and treasures: awards, trophies, mementos, silver pieces, family photographs… anything else of meaning. It's fun to rotate your collections by season and also to display items that express your personality, rather than generic objects that just fill space.
Exhibit art: Bookshelves are great display spots and make it easy to revolve pieces in your home gallery, including gorgeous vases, sculpture or decorative bowls. Place framed art among books or lean it in front of a group of books. Or hang smaller pieces on the wall behind open shelves.
Divide rooms or space: Use standing bookcases with multiple shelves as dividers to visually and physically split up large space with an open floor plan while still allowing light to flow through. For example, position the bookcase to delineate space for specific functions, such as for living or dining. This design approach is equally effective in a studio apartment, for example, to separate the sleeping area from the living area.
Maximize unused space: Corners, nooks under stairs, space under windows and even irregularly shaped walls can become functional with a little creativity and a set of bookshelves.
Create a closet organizer: As an alternative to a customized closet system, try using bookshelves to hold shoes, folded sweaters or baskets in which you can place smaller items, like handbags and accessories.
Transform bookshelves into furniture that serves another function: Low, horizontal bookshelves can serve double-duty as furniture, such as a nightstand, an end table, a sofa, a media console… even a bench. One of my favorite space saving solutions in condos with limited square footage is to integrate bookshelves with a Murphy bed, allowing a room to function by day as living or office space, yet serve as a bedroom at night.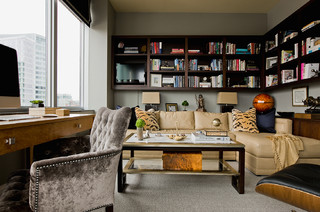 Before deciding on bookshelves—either ready made or customized built-ins— think about your needs. What do you need to store? What is unsightly and what do you want to show off? Take the measurements of your space, as well as of any specific objects you'd like to house on the shelf to make sure they will fit. Remember to consider the style of your home, too. From solid hardwood to metal and from laminate to glass, from contemporary to traditional, the options in bookshelves are endless, but your choice should echo or complement the style and architecture of your home.
So now that you've seen some of my favorite uses for bookshelves, what are yours?